Blue Skies Stables is not in the business of selling horses, but from time-to-time, our show family outgrows a horse or pony or has new riding needs.  As sad as it makes us feel to see some of our favorite friends move on, we know it's just as important for the show horses to be doing what they love the most, with someone that can love them as much as we do.  So with hopeful hearts, we try and help the current owners connect their loved ones with a new family.   Below are the horses that we know are now for sale or for lease and are looking for their new favorite rider.  As a Hunter Jumper show barn, the majority of the horses that get listed here will be Hunter Jumper Horses – but we will connect you with their owners for specific questions:
Tell Me Something Good | "Rufus"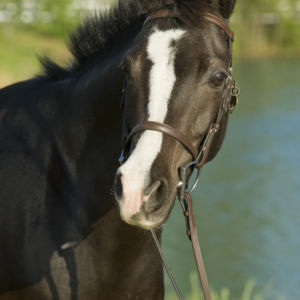 On-site Half Lease:  Rufus is a 13.2 hand, German Sport Pony that was born in 2005.  Rufus is not only a barn favorite, he is the do it all for that one rider!  He loves the little ones and teaching them the walk trot and growing with them to the jumps.  He loves the attention and the hugs, but he's also show ready to win at most levels.  He is under a training program with head trainer Sally Henry and is ready to start with his new forever rider today.  For more information on Rufus, including a video, please click here.