Blue Skies Horse Trainers
It's important to have a safe riding facility, but truly the Horse Trainers are the face of your facility!  Blue Skies runs a training program complete with student training from beginner to advanced to training your horse for the Hunter Jumper circuit.  All of our trainers are required to become certified and carry insurance – as the extra education ensures we are always keeping up on the latest safety trends and training techniques.  Below are the bios of our trainers:
Loren Hazard-Daniel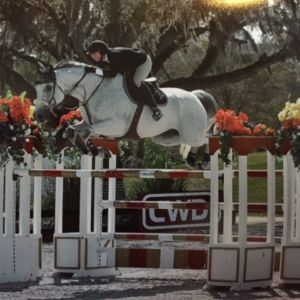 As Blue Skies has grown, some of our more advanced riders that are looking to show outside of the area on the more competitive A-rated circuit have partnered up with Loren Hazard-Daniel.  Loren works closely with Scot and the Blue Skies team to provide an additional showing opportunity right here at Blue Skies!
Loren started riding at the age of four with her mother, Amy Hazard. She began her extensive show career at age 6. She earned ribbons at pony finals in 1999, won the Bryan Jones equitation finals in 2009, and had numerous year end championships in between.
Loren received a B.A. In foreign language at the University of North Carolina at Wilmington and during her summers she interned and competed in Munster, Germany with Bernd Shulze-Topphoff. While abroad she qualified a 7-year-old investment horse for the Bundeschampionate Finals in Aachen for the 1.35-meter section. She and her mother have used this trusted connection to import several investment horses for clients that are proven winners at top shows.
Beginning in 2011, she has annually competed and worked at the Winter Equestrian Festival in Wellington, Florida and HITS in Ocala, Florida. She has trained with and worked for top respected names such as Val Renihan, Harold Chopping, George Morris, Joe Fargis, and Bernie Traurig. Loren also enjoyed working for Havens Schatt for several shows while traveling with her jumper, including Lexington, Kentucky for the Bluegrass Festival that hosts Derby Finals and Green Incentive Finals.
Her professional career is supported by years of experience, but her personal riding career is highlighted by taking her own horse, Memphis in the Meantime all the way from 2'6″ baby green hunters to the Grand Prix ring after 9 years of training. Loren has been featured in instructional videos on Equestrian Coach.com and continues her education by taking and teaching clinics and surrounding herself with the top competitors in the industry. Her mother, Amy Hazard and her run Otter Creek Farm, in Macclesfield, NC together and produce top horses and riders that are successful at nationally ranked shows up and down the east coast.
Sarah "Scot" Thompson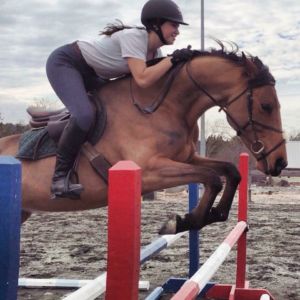 Scot Thompson is our beginning and intermediate lesson student trainer.  Her primary role is ensuring the safety of your child as they ride for the first time, or start competing for the first time.  Ensuring safety means teaching the foundations, and spending a lot of time on the education behind the riding, as these teachings will grow into the basis of your riding from now until the end of time.
Scot began riding at the age of 5, and for the first seven years she trained as a Hunter Jumper at Macnairs Country acres. During that time she also leased her first horse "Petey" who brought her through the children's hunters. In 2007 her family bought a house in Southern Pines where she fell in love with fox hunting and 3 day eventing. Scot fox hunted for 3 years with Moore County Hounds and competed in 3-day eventing during her time in Southern Pines. She came back to the triangle area in 2010 and worked at a sale barn riding a variety of horses that she competed in the hunter, equitation, and jumper rings. She currently owns Winnie; a 9 year old Danish Warmblood who she plans to compete in the bigger jumper classes.
Her riding history includes a great deal of experience and competition:
Successfully competed through the Junior Hunters

Successfully competed in the Children's Jumpers 

Retrained thoroughbreds off the track to competing in the hunter ring.
She continues to ride a variety of horses on a daily basis from medium ponies to Grand Prix jumpers.
Blue Skies Stables – Trainer Alumni
Unlike many local barns, Blue Skies is owned and operated by someone other than our trainer – which allows us to focus solely on the care of the horses being boarded, and it allows trainers to focus on the training of the students and horses.  As such, we have Alumni trainers who have all come in and run the Blue Skies program that we are proud to still showcase: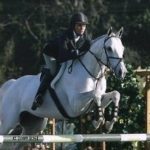 Sally Henry (2016 – 2018) was our first Show Trainer, and Blue Skies was her first Professional Trainer position.  During her Junior Equitation and Jumper years, Sally trained under Don Stewart, Manuel Torres, Lisa Dye, and Melissa Jones Sarle. She also trained and competed in dressage with Kris Barrett.
At 18, Sally was recruited by the University of South Carolina NCAA equestrian team and received an athletic scholarship. There she competed on the starting lineup as a freshmen and had a winning record while maintaining highest academic honors. At the SEC Championships, Sally won both of her points (equitation on the flat and over fences) to help bring home the team championship trophy. She was the only Gamecock to receive the SEC Championship MVP award.  Sally's Junior riding career highlights include:
2012 competed in the junior jumpers
Qualified for the 2011 Pessoa/USEF Hunt Seat Medal Finals in Harrisburg, PA; 2011 USHJA Zone III Medal Finals, Culpeper, VA; and 2011 VHSA Medal Finals, Lexington, VA
Received Laurie Gilbert – Don Stewart Sr. Memorial Trophy for highest equitation points, NCHJA Annual Show
Age Equitation Champion-2011 Raleigh "A" Indoor Circuit; 2010 NCHJA high point equitation champion
Qualified for the 2009 ASPCA Maclay National Finals in Syracuse, NY
USA Gold Medalist at the 2009 FEI CSI Pre-Jr. B International Jumping Cup in Santiago, Chile
Qualified for the 2009 WIHS Children's Jumper Championships in Washington DC
2008 reserve champion, ACL Children's Hunter & ACL Children's Jumper Finals on the SAME horse
2007 4H Junior Horse State Champion
Sally returned home to attend the NC State School of Business to earn a Bachelor of Science degree in Economics. She continued to compete, rehabilitate and train young horses.  From 2014-2016 Sally worked for Fernando Cárdenas who owns 3H Veterinary and is an Olympic grand prix equestrian.
She has taken a new barn and transformed it into a barn of championship-winning horses.  At one of the shows at the Sedgefield Showgrounds, Sally brought three horses from the barn to compete in a field of 39 entries.  She promptly finished 1st, 2nd and 4th with the three horses, showing once again her ability to train the horses is unmatched.