Blue Skies Horse Trainers
It's important to have a safe riding facility, but truly the Horse Trainers are the face of your facility!  Blue Skies runs a training program complete with student training from beginner to advanced to training your horse for the Hunter Jumper circuit.  All of our trainers are required to become certified and carry insurance – as the extra education ensures we are always keeping up on the latest safety trends and training techniques.  Below are the bios of our trainers:
Sally Elizabeth Henry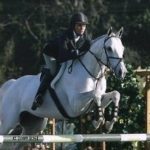 Sally comes from a long family line of horse enthusiasts – horses are in her veins. Her grandfather, the late honorable mayor of Hillsborough, NC, her aunts and mother fox hunted and competed in show jumping. Sally began riding at 7 years old in sporting dog field trials across NC and VA. Riding Tennessee Walking horses in day-long trials, she helped campaign national champion English Setters and scouted top prospect dogs. Sally quickly fell in love with horses and began taking hunt seat lessons at MacNairs Country Acres in Raleigh under Nancy Demus. At 13, Sally bought her first horse, Tucker, a TB gelding, and trained under Melissa Jones Sarle of Raleigh. She rode Tucker all the way from the Children's Hunters to Children's Jumpers then Junior Jumpers. While riding Tucker she qualified and competed in numerous Junior Equitation Medal finals including the Maclay and the USEF national medal finals. Sally also attended an FEI show jumping competition in Santiago, Chile where she won an individual gold medal. During her successful junior career, Sally also catch rode many horses winning championships in both the hunters and jumpers. During her Junior Equitation and Jumper years, Sally trained under Don Stewart, Manuel Torres, Lisa Dye, and Melissa Jones Sarle. She also trained and competed in dressage with Kris Barrett.
At 18, Sally was recruited by the University of South Carolina NCAA equestrian team and received an athletic scholarship. There she competed on the starting lineup as a freshmen and had a winning record while maintaining highest academic honors. At the SEC Championships, Sally won both of her points (equitation on the flat and over fences) to help bring home the team championship trophy. She was the only Gamecock to receive the SEC Championship MVP award.  Sally's Junior riding career highlights include:
2012 competed in the junior jumpers
Qualified for the 2011 Pessoa/USEF Hunt Seat Medal Finals in Harrisburg, PA; 2011 USHJA Zone III Medal Finals, Culpeper, VA; and 2011 VHSA Medal Finals, Lexington, VA
Received Laurie Gilbert – Don Stewart Sr. Memorial Trophy for highest equitation points, NCHJA Annual Show
Age Equitation Champion-2011 Raleigh "A" Indoor Circuit; 2010 NCHJA high point equitation champion
Qualified for the 2009 ASPCA Maclay National Finals in Syracuse, NY
USA Gold Medalist at the 2009 FEI CSI Pre-Jr. B International Jumping Cup in Santiago, Chile
Qualified for the 2009 WIHS Children's Jumper Championships in Washington DC
2008 reserve champion, ACL Children's Hunter & ACL Children's Jumper Finals on the SAME horse
2007 4H Junior Horse State Champion
Sally returned home to attend the NC State School of Business to earn a Bachelor of Science degree in Economics. She continued to compete, rehabilitate and train young horses.  From 2014-2016 Sally worked for Fernando Cárdenas who owns 3H Veterinary and is an Olympic grand prix equestrian.
In April of 2016, Sally began began her professional career as the Head Trainer for Blue Skies Stables.  In that role, she is responsible for the training and conditioning of all of the horses being boarded at Blue Skies, and advises on the nutrition program and care based on their current workload.  She has taken a new barn and transformed it into a barn of championship-winning horses.  At one of the shows at the Sedgefield Showgrounds, Sally brought three horses from the barn to compete in a field of 39 entries.  She promptly finished 1st, 2nd and 4th with the three horses, showing once again her ability to train the horses is unmatched.
As Head Trainer, Sally is also in charge of overseeing our lesson student program, as well as running our show team for the intermediate to advanced students, helping them improve and reach their riding goals.  Students this year have gone from open schooling shows last year, to competing at and winning Grand Champion at A Shows.  Her ability to relay to the students how to ride each and every horse continues to build the confidence of the riders throughout the year, as they work toward their own individual goals of competing at the college level, or simply improving their own abilities as a competitive rider.
And of course, Sally also owns a couple of horses – two young Oldenburg prospects, Harry and Olsen.
Sarah "Scot" Thompson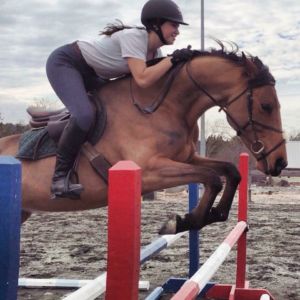 Scot Thompson is our beginning and intermediate lesson student trainer.  Her primary role is ensuring the safety of your child as they ride for the first time, or start competing for the first time.  Ensuring safety means teaching the foundations, and spending a lot of time on the education behind the riding, as these teachings will grow into the basis of your riding from now until the end of time.
Scot began riding at the age of 5, and for the first seven years she trained as a Hunter Jumper at Macnairs Country acres. During that time she also leased her first horse "Petey" who brought her through the children's hunters. In 2007 her family bought a house in Southern Pines where she fell in love with fox hunting and 3 day eventing. Scot fox hunted for 3 years with Moore County Hounds and competed in 3-day eventing during her time in Southern Pines. She came back to the triangle area in 2010 and worked at a sale barn riding a variety of horses that she competed in the hunter, equitation, and jumper rings. She currently owns Winnie; a 9 year old Danish Warmblood who she plans to compete in the bigger jumper classes.
Her riding history includes a great deal of experience and competition:
Successfully competed through the Junior Hunters

Successfully competed in the Children's Jumpers 

Retrained thoroughbreds off the track to competing in the hunter ring.
She continues to ride a variety of horses on a daily basis from medium ponies to Grand Prix jumpers.