Blue Skies Horse Trainers
It's important to have a safe riding facility, but truly the Horse Trainers are the face of your facility!  Blue Skies runs a Show Barn complete with student training from beginner to advanced to training your horse for the Hunter Jumper circuit.  All of our trainers are insured and keep up on the latest safety trends and training techniques.  While I know we're biased in this statement, but we truly believe we have some of the best trainers in the industry right here at Blue Skies Stables!  Below are the bios of our trainers so you can judge for yourself:
Loren Hazard-Daniel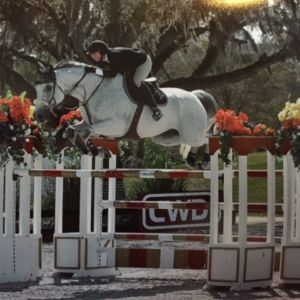 As Blue Skies has grown, some of our more advanced riders that are looking to show outside of the area on the more competitive A and AA-rated circuit have partnered with Loren Hazard-Daniel.  Loren works closely with the Blue Skies team to provide an additional showing opportunity right here at Blue Skies!
Loren started riding at the age of four with her mother, Amy Hazard (owner of Otter Creek Farm). She began her extensive show career at age 6. She earned ribbons at pony finals in 1999, won the Bryan Jones equitation finals in 2009, and had numerous year end championships in between.
Loren received a B.A. In foreign language at the University of North Carolina at Wilmington and during her summers she interned and competed in Munster, Germany with Bernd Shulze-Topphoff. While abroad she qualified a 7-year-old investment horse for the Bundeschampionate Finals in Aachen for the 1.35-meter section. She and her mother have used this trusted connection to import several investment horses for clients that are proven winners at top shows.
Beginning in 2011, she has annually competed and worked at the Winter Equestrian Festival in Wellington, Florida and HITS in Ocala, Florida. She has trained with and worked for top respected names such as Val Renihan, Harold Chopping, George Morris, Joe Fargis, and Bernie Traurig. Loren also enjoyed working for Havens Schatt for several shows while traveling with her jumper, including Lexington, Kentucky for the Bluegrass Festival that hosts Derby Finals and Green Incentive Finals.
Her professional career is supported by years of experience, but her personal riding career is highlighted by taking her own horse, Memphis in the Meantime all the way from 2'6″ baby green hunters to the Grand Prix ring after 9 years of training. Loren has been featured in instructional videos on Equestrian Coach.com and continues her education by taking and teaching clinics and surrounding herself with the top competitors in the industry. Her mother, Amy Hazard and her run Otter Creek Farm, in Macclesfield, NC together and produce top horses and riders that are successful at nationally ranked shows up and down the east coast.
Elizabeth "Lizzie" Petrilli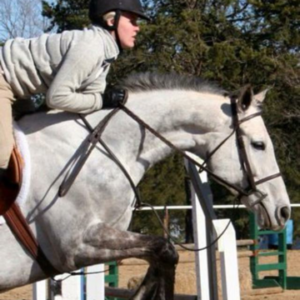 Lizzie Petrilli is our beginning and intermediate lesson student trainer, as well as one of our show trainers.  Her primary role is ensuring the safety of your child as they ride for the first time, or start competing for the first time.  Ensuring safety means teaching the foundations, and spending a lot of time on the education behind the riding, as these teachings will grow into the basis of your riding from now until the end of time.
Lizzie is originally from Raleigh, NC and began riding at five years old. Her childhood barns included Wakefield Barn and Southern Oak Equestrian Center. At age ten, she began training with Thom Pollard at Wakefield Barn on her beloved warmblood cross King Charles. During her junior riding years, she showed horses and ponies with Thom at numerous AA shows up and down the East Coast.
Lizzie attended Wake Forest University, where she earned a BA in English. During her college years, she rode and competed collegiately on the Wake Forest University Equestrian Team, serving as Captain for two years and qualifying for IHSA Regionals twice.
Upon graduation in 2013, Lizzie returned to Raleigh and has been working professionally in the hunter/jumper industry for the last 6 years. Lizzie currently owns a hunter mare named Keeley and her three-month-old foal, Bellatrix, whom she is looking forward to training.
Lizzie and her husband Andrew currently reside right outside Raleigh and have a three-year-old daughter Leona, who also loves horses.
Charlotte Yarbrough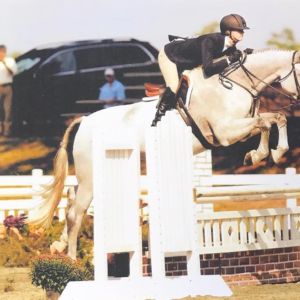 Charlotte works with Blue Skies exclusively as a training rider and exercise rider for our horses.  She is critical to the success of each rider, as she follows the lead and instruction of Head Trainer Loren Hazard-Daniel into molding the horses for competition.  Charlotte's ability to work together with Loren on honing the skills of the horse ensures that the riders at Blue Skies focus their time and efforts on perfecting their own riding abilities.
The majority of Charlotte's riding experience has been as a catch rider showing green and sale horses. She began riding at MacNair's Country Acres when she was 7. At age 11, she began showing Connemara ponies for Seaborne Farm under Lauren Hill. As a working student, Charlotte continued catch riding and showing a variety of horses under Lauren throughout high school. This gave Charlotte the unique opportunity to hone her skills while adapting to the needs of many different rides.
Charlotte has received many NCHJA awards including 2014 Best Child Rider on a Horse, 2012 Patricia May Sportsmanship Award, 2011 Children's C Equation Medal Finals winner, and numerous championships in the C through AA show circuit in the hunter and equitation ring. She has competed in EJ Haun finals, 2012 College Preparatory Invitational in Wellington, Florida and received several NCAA scholarship offers before deciding to stay close to home at ECU where she rode for the IHSA Equestrian Team. Charlotte is currently finishing her degree at ECU and enjoying bringing along her 5 year old mare, Cricket.