Tell Me Something Good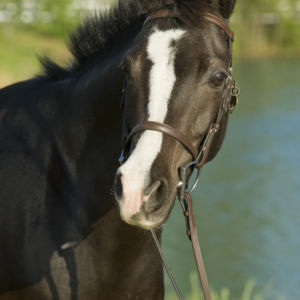 Barn Name:  Rufus
Breed:  German Sport Pony
Height: 13.2
Foal Date:  April 16, 2005
"Rufus", as he's known in the barn, joined the Blue Skies Stables Hunter Jumper Show Team in March of 2015 and is currently in training to compete under the watchful eyes of Sally Henry.  Rufus is "that" pony that kids and judges alike fall in love with him at first sight!  He is built to show and win, but he's also the sweetest pony that loves to work with the walk trots and teach them the ropes!  So he's perfect for the beginner up to the advanced rider who's looking to show at rated shows.
We have the unique opportunity to offer a half onsite lease of Rufus – and if you haven't seen our facilities, we highly recommend you schedule a tour, or at the very least, take a look at some of the pictures!  Blue Skies Stables was built for the Hunter Jumper riding experience!  Coupled with an amazing pony like Rufus, and we're seeing a lot of blue in your future!
Here are some high level details as it relates to the lease:
Half Lease – $475/month
Half leases include 3 days a week riding time with first priority of which days of the week work for you.
6 month or 12 month terms available.
Covers all health, supplements, care and farrier expenses.
Includes the use of all amenities at Blue Skies, including a personal tack locker in the owners locker room, use of the 250×150 outdoor jumping arena, and use of the 200×100 covered/lighted arena!
Includes first right of refusal for use at Shows.
Bridle, girth, saddle pad and grooming equipment are also provided. If you have your own grooming equipment, we request that they be new, or disinfected and cleaned thoroughly before use, and then they do not get used between horses.
We have several saddles in our schooling tack room that may be used assuming they properly fit the leased horse, and are the appropriate fit for the rider.
The Fine (hoof) Print:
We do require that prior to leasing any horse at Blue Skies that a rider take 2 lessons from the horses trainer so that we can ensure a proper fit both for the horse and riders safety.  We also require that you carry a $1 million liability insurance policy – but don't worry, this comes standard with your $45 annual membership fee to the NC Horse Council.   We will carry health/mortality insurance – but we do reserve the right to terminate any lease agreement if we feel the welfare of the horse or the rider are in jeopardy.
Ready to Lease a Horse?
Simply email info@BlueSkiesStables.com or call 512-222-7892 and we will schedule a barn tour and make introductions to you and Rufus!  Below is a look at his 12 year old owner showing out at Sedgefield this past year: